Accessible Tour of Piran: Slovenian Gem on the Coast
Piran is the gem of the Slovenian coast, and for sure you will fall in love in this romantic little town, famous for its beautiful architecture, salt, and rich history. On your accessible tour of Piran the local guide will take you to the stroll, and while explaining interesting stories and legends, you will get to discover the spirit of the town. Piran is partially accessible, but with our guide you can be without worries and ready to discover Piran in relaxed way.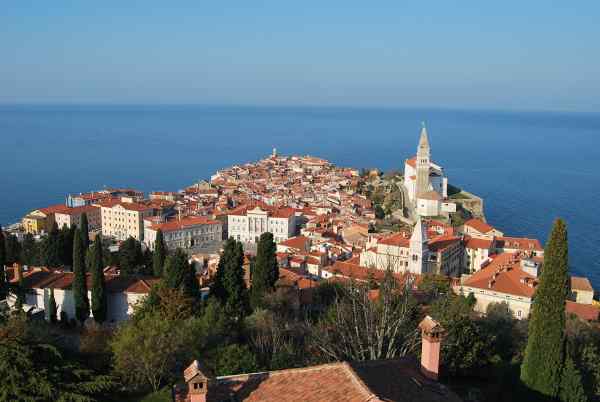 On your accessible tour of Piran you will explore:
Tartini square: the square is named after famous Piran citizen, Giuseppe Tartini.
The Church of St. George from the 17th century, the bell tower and baptistery with an astonishing view over three countries.
Punta or Cape Madonna, the places, which is closest to the deepest point of Slovenian sea.
• The promenade or the quay, where are numerous fish restaurants and bars.
• The 1st May square, the square of four names, which used to be the main square of Piran for centuries.
Mandrač or local harbor, where we will tell you about fishery and boats in Piran.
••The tour lasts around 1,5 hour but we can either extend or shorten it. The tour is completely accessible, and the guide can also advise you on bars and restaurants in Piran. The tour is private so we can adapt it to the interests or needs of the visitors.
Prices: from 130€ for a guided tour and from 230€ for a guide and a drive.
Options: wine tasting, local food tasting, lunch and dinner
The departure time and place: by agreement (Piran, Koper, Izola, Ljubljana…)
•
DO YOU KNOW?
The name of Piran doesn't come from piranha?
The strict regime in the time of plague?
Interesting population counting in Piran?
LET'S FIND OUT!